On 29 January I was honored to be named among the New Hampshire Union Leader's 40 Under Forty: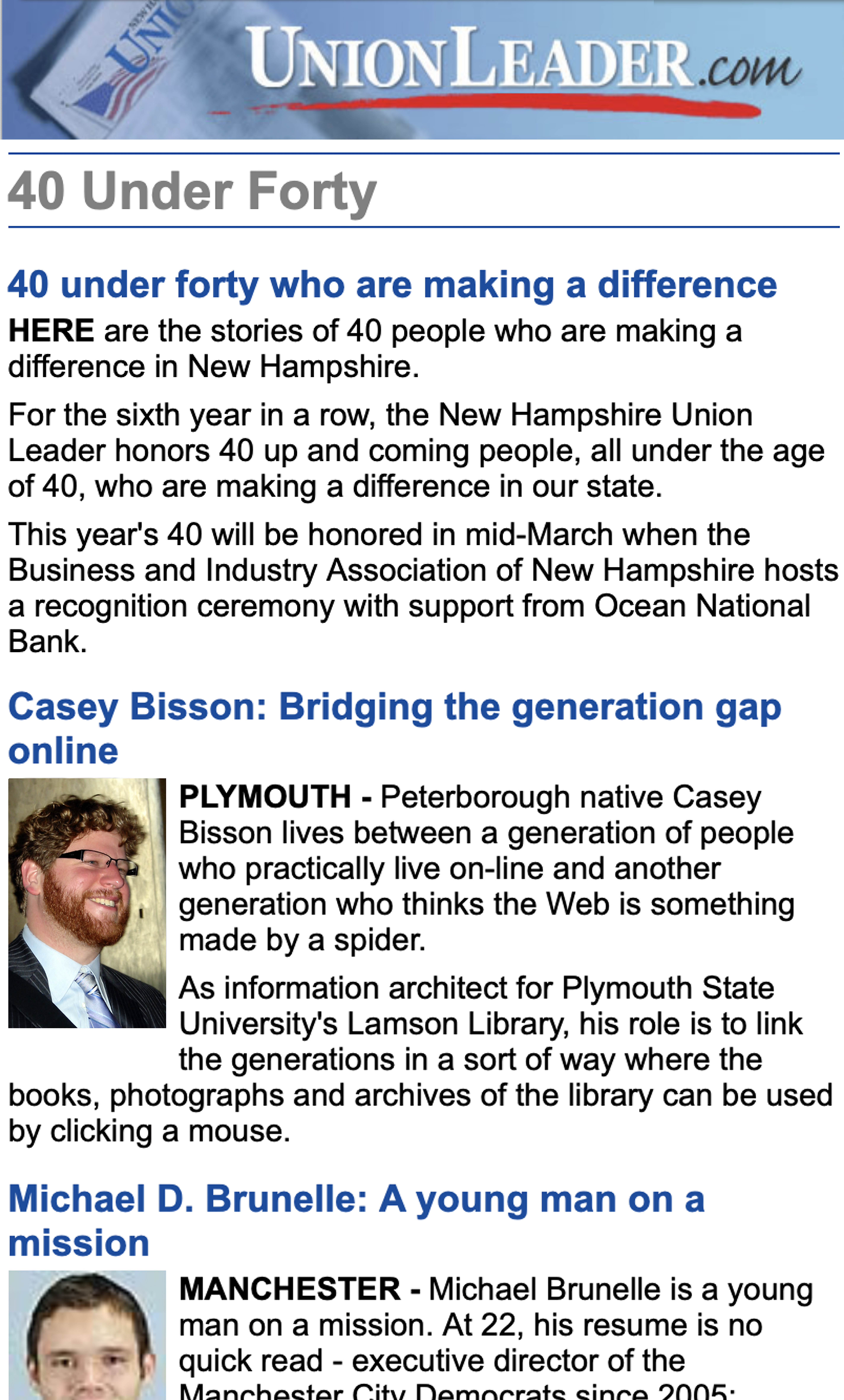 Casey Bisson has heady task of linking the generations

By Paula Tracy, January 29, 2007

PLYMOUTH – Peterborough native Casey Bisson lives between a generation of people who practically live online and another generation who thinks the Web is something made by a spider.

As information architect for Plymouth State University's Lamson Library, his role is to link the generations in a sort of way where the books, photographs and archives of the library can be used by clicking a mouse.

"My job is definitely always evolving," he said. "Libraries have to change and respond."

Bisson was in Washington in December to receive a national award for creating software which might someday help residents of small local towns find information in their libraries from their home.

Bisson was one of several winners of the prestigious Mellon Award for Technology Collaboration for his software application known then as WPopac, but soon to be known as Scriblio.

The software, he hopes, will revolutionize the online search process by allowing titles and descriptions of library holdings to be found on the Internet.

He explained that while millions of Internet users search online for information about millions of topics daily, none of the search results includes resources from the countless libraries around the world.

If you wanted to locate a book on the Internet, you might go to a search engine and find listings for book sellers. But not libraries.

In the future, you might find that the book is available at your local library because of the software that Bisson has created.

An information architect is responsible for structuring data to meet the needs of the user.

While Lamson Library has more than 300,000 volumes, it also has a large collection of photographs. Right now, he is working on software to develop a way to bring the photographic history of Berlin's mills to the Internet. Posting it online, he has received responses from former mill workers who explain the context of a photo or what it represents.

"My hope is to get these photos out there," so they are not just collecting dust but can connect and provide context to history and communities.

Academic libraries have seen a huge drop in usage in the last few years, largely because of search engines.

Bisson noted that in one month search engines handle six billion requests for information while all academic universities handled three million.

---

Most admired person: Henry V, as described in Shakespeare, not for winning against the odds (the archers helped), but for being able to motivate people to join him.
Current job: Information architect, Plymouth State University. My best description of what I do: I build systems that shorten the distance between question and answer.
Key past positions held: I've been at PSU since 1998, when I was hired as a system administrator. A portion of my time was assigned to help the library with their IT problems and I've been privileged to work on a number of interesting projects. Early on, as a system administrator, I led the transition to open-source Web, e-mail, file, and print services hosted on x86-class hardware for a cost savings of over $60,000 in the first year. And later, I architected a re-design of the MIS server architecture, taking advantage of a changing market to fund the total replacement of MIS servers on the resale of old servers and the savings in maintenance costs on them. But I'm much prouder of my work in the library.
Last major achievement: In December 2006 I was awarded Andrew W. Mellon Award for Technology Collaboration (MATC) for my work on Scriblio (was WPopac).
What book are you reading now? Tom Kelly's "The Ten Faces of Innovation," Joe Monninger's "Two Ton," Christopher Andrew and Vasili Mitrokhin's "The Sword and the Shield."

Copyright 2007 Union Leader Corp.